By Carrie Ghose – Staff reporter, Columbus Business FirstOct 30, 2019, 12:57pm EDT Updated Oct 30, 2019, 3:19pm EDT
Ohio again offers promising hunting ground for Steve Case, who's raised a second $150 million Rise of the Rest seed fund to invest in startups outside of Silicon Valley and coastal cities where venture capital is concentrated.
Three Columbus startups are among the first fund's more than 130 portfolio companies in 32 states. Case, the billionaire co-founder of America Online, started Rise in 2014 as an offshoot of his Washington, D.C., venture capital firm Revolution LLC. The first fund, raised in 2017, has exceeded expectations for the speed of both finding startups to back and how they've grown since, he said.
"We're seeing great momentum within the portfolio," Case said in an interview. "The fact we we're able to raise this (second) fund pretty quickly – in three or four months – is also pretty encouraging. The strategy we're executing against is a logical one, and we're making progress in terms of results."
Rise is known for its yearly bus tour of about five cities, each stop culminating in a pitch contest for a $100,000 investment. SafeChain Financial Inc., which uses blockchain technology for security in real estate transactions, was the winner of the 2017 Columbus event and went on to raise a $3 million round.
From those tours Rise built local networks of investors who have introduced it to 95% of eventual portfolio startups, Case said.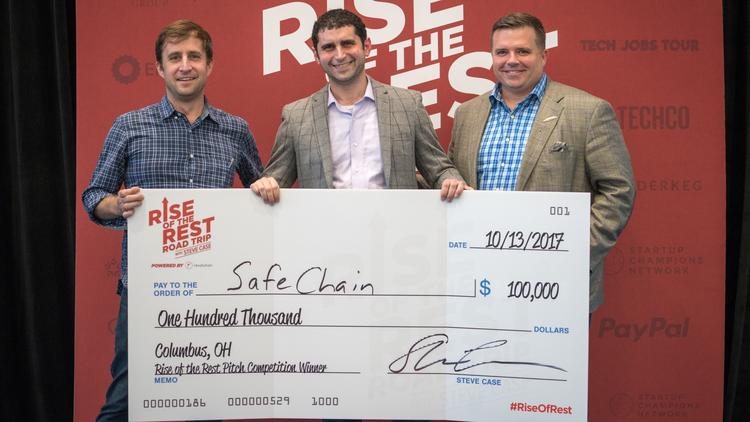 After SafeChain, Rise invested in two more Columbus startups: Ethex Software Inc., which is building an online marketplace using blockchain to exchange cryptocurrencies or other digital assets, and Mobikit, a data platform for connected vehicle infrastructure. Other Ohio investments are Branch in suburban Cleveland, which bundles home and car insurance policies online, and Cincinnati-based Losant, which makes enterprise software.
The fund also has made follow-on investments in SafeChain. Individual amounts aren't disclosed. Initial investments are typically $100,000 to $500,000, and in later rounds up to $3 million. The new fund has capacity for about 100 portfolio companies.
About 40% of venture dollars went to Silicon Valley last year, and another 40% to the rest of California, New York and Massachusetts, according to the National Venture Capital Association. Ohio companies got 0.8%, among several states with less than 1% including Michigan, Pennsylvania and Wisconsin.
Returning investors in the new fund include Amazon founder Jeff Bezos, Spanx founder Sara Blakely, Quicken Loans founder Dan Gilbert, the Koch family, former Google CEO Eric Schmidt, former U.S. Chief Technology Officer Megan Smith and former HP CEO Meg Whitman.
David Hall, an investor at Revolution for 13 years and with Rise from the start, takes over as managing partner, with expanded leadership roles for partners Anna Mason and Mary Grove. Hall replaces author J.D. Vance, who used to split his time in D.C. but has moved full-time to Cincinnati.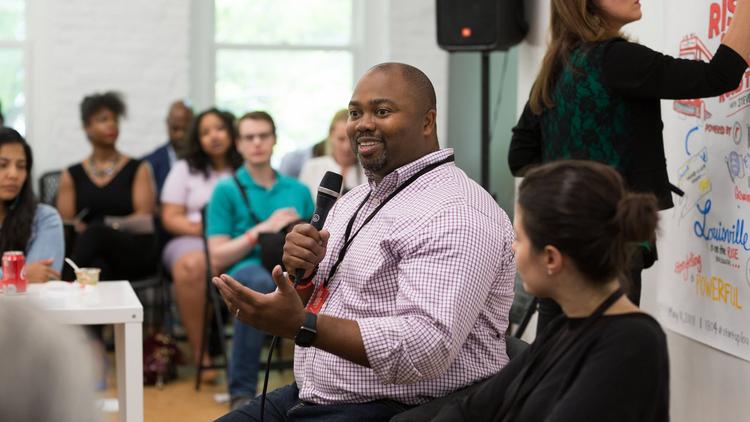 Rise ranked Columbus at the top of the most promising emerging startup cities a year ago in a project with Forbes magazine highlighting non-coastal cities showing momentum.
"Cities like Columbus are rising for sure, but there's still a lot of work to do," Case said.
"Momentum begets momentum," he said. "That's why we're confident we're right about the Rise of the Rest thesis. It will get easier over time to attract capital, recruit talent, get the attention of media on the coasts as these cities rise and break out more successes."
Columbus' Drive Capital LLC, a VC firm with more than $1 billion under management, and unicorn successes like CoverMyMeds and Root Inc. are drawing attention to Central Ohio along with Rise's effort. More coastal funds are interested in the region's startups, Case said, but he wishes there were even more.
"We don't view it as competition – we view it as an opportunity to help lift up more startup communities in more places," he said.
"There's a broader ambition of trying to level the playing field in terms of entrepreneurship in America," he said. "Having capital spread more broadly, … would be a great thing for the country."